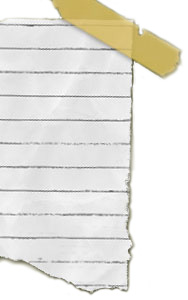 Check this page regularly for upcoming author events that Claflin Books and Copies will be participating in!

David Finkel Presentation

Oct.17th

Manhattan Public Library, Grossbeck Room

Author David Finkel signed copies of his books, The Good Soldiers and Thank You for Your Service..  Mr. Finkel did research for both books at Fort Riley.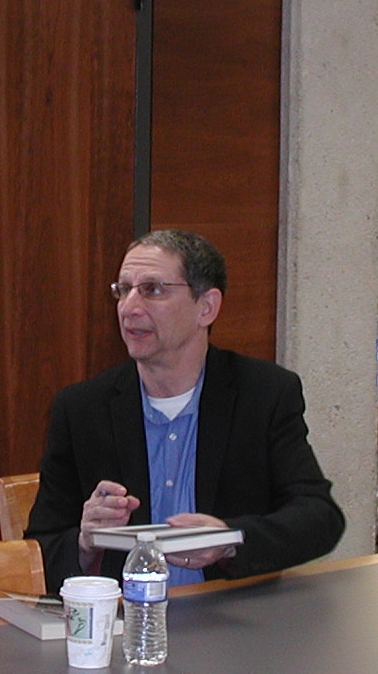 Lou Douglas Lecture Series: John Hofmeister

Feb. 11th

K-State Leadership Studies Building - Town Hall Lecture Hall

Former President of Shell Oil Company, John Hofmeister discussed the oil industry and his book, Why We Hate the Oil Companies.

Julene Bair Presentation

April 22nd

Mariana Kistler Beach Museum of Art

As part of the Friends of Konza Prairie's celebration of Earth Day, author Julene Bair read from her memoir about the Ogallala Aquifer, The Ogallala Road.

Lauren Kessler Presentations

April 23rd & 24th

Meadowlark Hills and Kansas State University

Lauren Kessler discussed her book Finding Life in the Land of Alzheimer's and signed books following each presentation.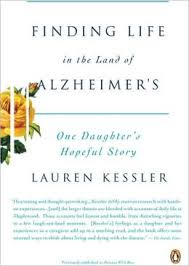 Kadir Nelson Signing

April 12th

Kansas State University Alumni Center

Author/Illustrator Kadir Nelson spoke at the ChALC Conference: Drawn Together and signed copies of his books following the presentation.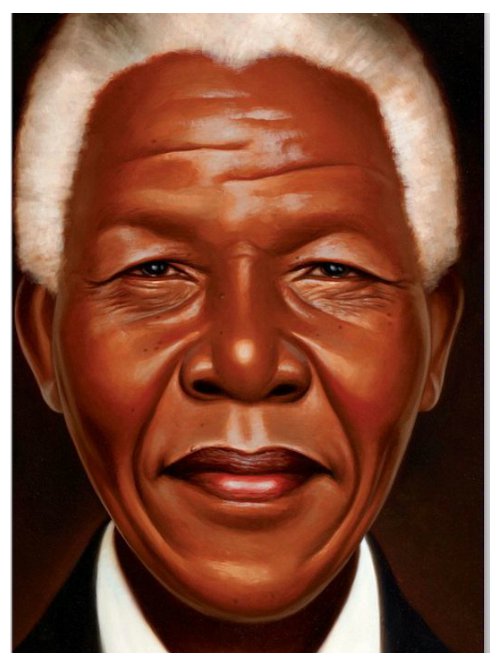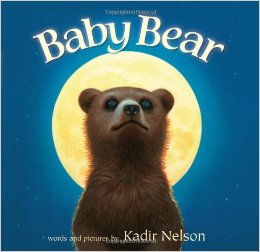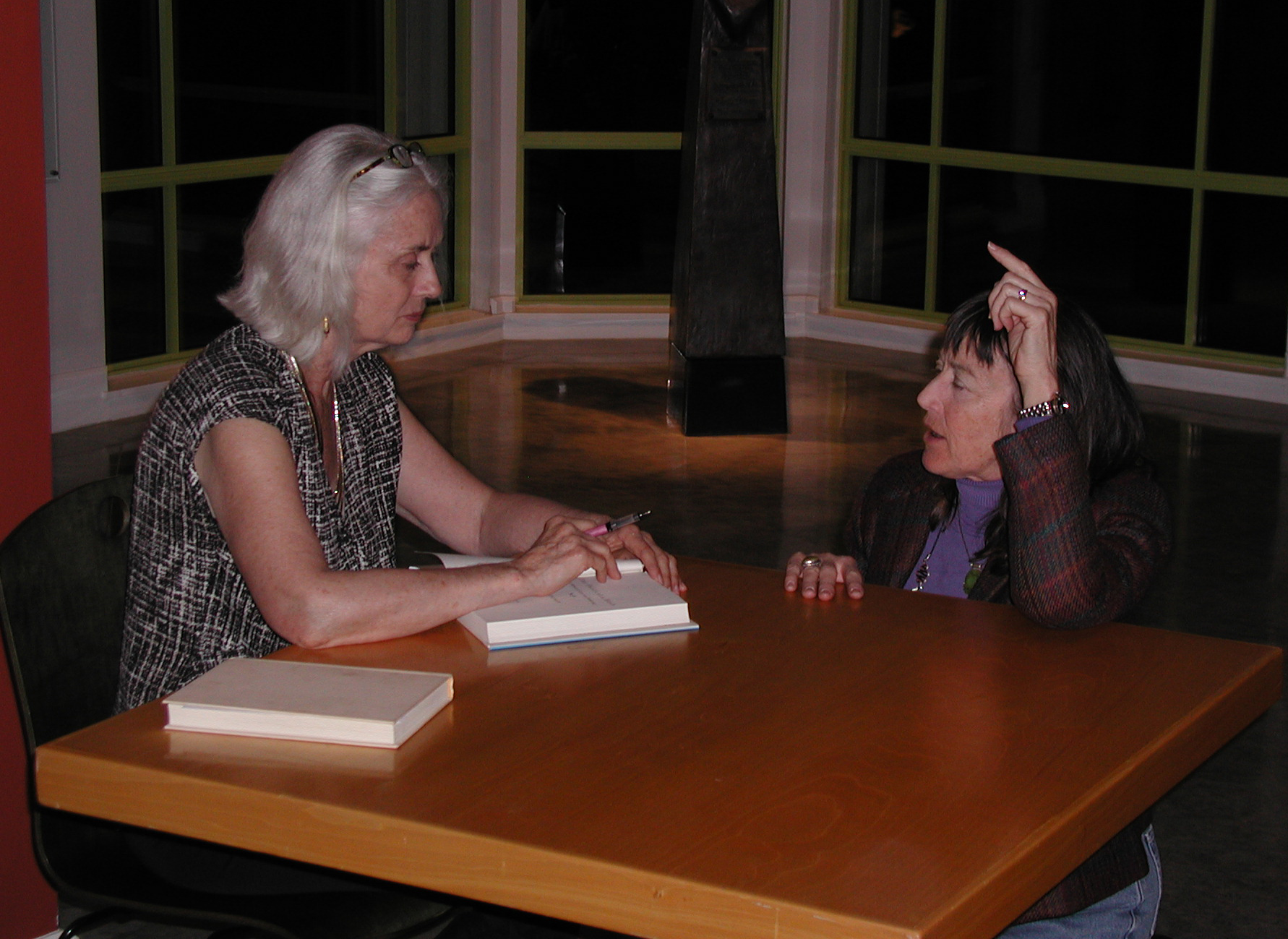 Julene Bair signs a book for an attendee.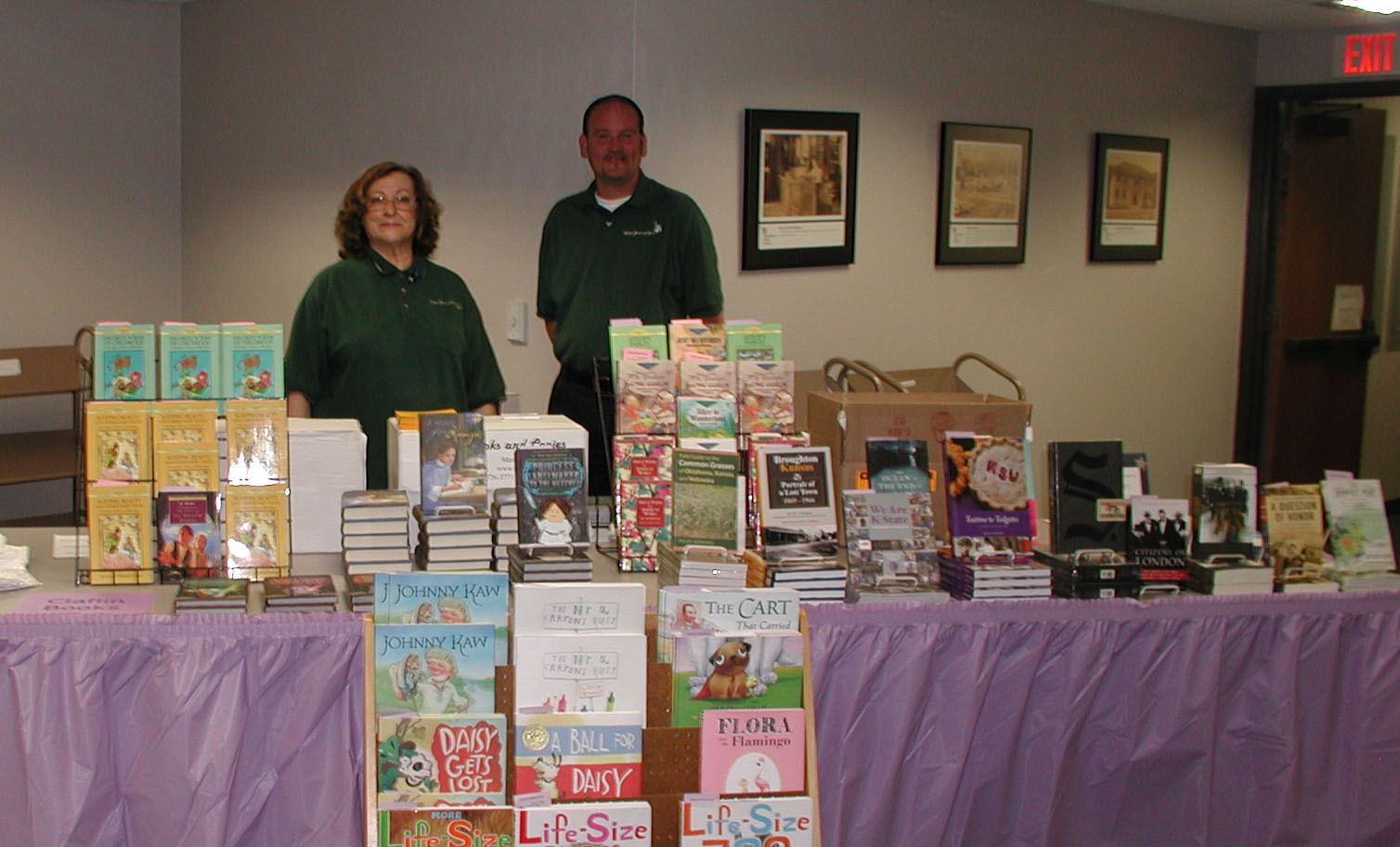 NCKL Book Fair 2014

May 8th

Claflin Books and Copies were pleased to once again be vendors at the 2014 NCKL Book Fair.

Stormy and Karl stand behind Claflin's selected books for the 2014 Book Fair.

Joel Greenberg Presentation

June 18, 2014

Sunset Zoo Rotunda

Author Joel Greenberg presented on his new book, A Feathered River Across the Sky: The Passenger Pigeon's Flight to Extinction.  Books will be available for signing and purchase at the event.  This event is sponsored by The Northern Flint Hills Audubon Society.

Manhattan Juneteenth Celebration 2014

Jun 21

Manhattan City Park

Julene Bair Presentation

Sept. 24

Sunset Zoo Rotunda

Julene Bair presented on her book, The Ogallala Road: A Memoir of Love and Reckoning.

Julene Bair Presentation

Sept. 25

Hale Library, Hemisphere Room

Julene Bair presented on her book, The Ogallala Road: A Memoir of Love and Reckoning.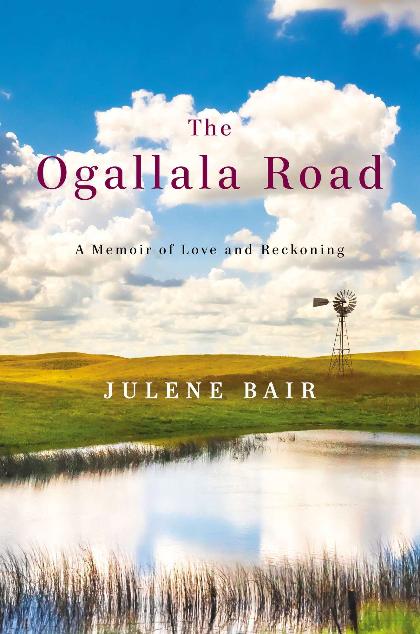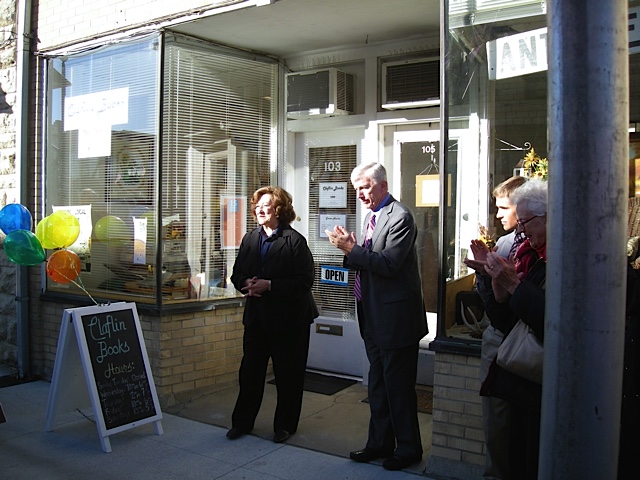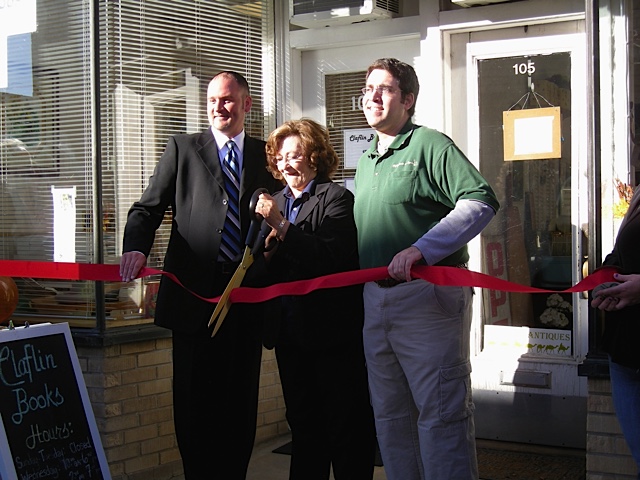 Claflin Books Ribbon Cutting Ceremony

October 29, 2014

Claflin Books, 103 N. 4th Street

Claflin Books celebrated our new location at 103 N. 4th Street with a Ribbon Cutting Ceremony thanks to the Manhattan Area Chamber of Commerce.  We were pleased to see so many of our friends from the Manhattan community in attendance.  Our sincere thanks to everyone who joined us!

Jan Thomas Book Signing

November 6, 2014

Manhattan Public Library

Jan Thomas, children's book author, signed several of her titles, including the Kansas Reads to Preschoolers 2014 book, "Is Everyone Ready for Fun?"

Stormy with the author, Jan Thomas

Library Staff with the author

Tim Bascom Book Signing

August 1

Manhattan Public Library

Tim Bascom read from his memoir, Running to the Fire: An American Missionary Comes of Age in Revolutionary Ethiopia.

An Evening with Author Ian Michael Spurgeon

Feb. 11, 7:00 p.m.

Dorothy Bramlage Public Library, Junction City

Ian Michael Spurgeon, author and military historian will discuss his Kansas Notable Book,
Soldiers in the Army of Freedom: The First Kansas Colored, the Civil War's First African American Combat Unit
.  Mr. Spurgeon will also be presented with his first place award from
Prairie Heritage, Inc.
  Following the event, the author will be signing books.
This title is now available at Claflin Books.